MIAMI – (RealEstateRama) — MIAMI Association of REALTORS® (MIAMI) member Jose Fernandez's lifelong devotion to community service earned him the 2016 Humanitarian of the Year from Florida Realtors, a prestigious state award that highlights the many causes, charities and organizations MIAMI's 42,000 members are supporting in South Florida and abroad.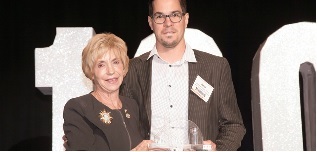 "I had tears of joy and gratitude upon winning because I do not help others to be recognized," said Fernandez, a sales associate with Keller Williams Realty in Miami Beach. "I help others to make a difference and as a way to pay it forward for all the blessings I have been given.
"This is one of my greatest accomplishments and I am humbled to receive it. I am blessed for having the opportunity to represent a community of MIAMI Realtors who give their time, effort and money to help make this world a better place. To all those Realtors, I dedicate this award."
The 36-year-old Fernandez, who received the 2016 Humanitarian of the Year award during the state association's 100th annual Convention & Trade Expo in August, has been helping others since he was a child living in Puerto Rico. He said his family taught him the importance of community service.
He began sponsoring several children through Children International in 2001, when he was attending Florida International University in Miami. Over the years, he has traveled on missionary trips to Uganda, Mexico, Honduras and the Dominican Republic.
"Community service is about leaving a legacy behind," Fernandez said. "It is about building a better place to live."
While helping children across the globe, Fernandez was introduced to an orphanage in Honduras for 33 children who are not only orphans but also living with HIV or AIDs. FundacionAmor y Vida is a nonprofit organization dedicated to providing love, protection, care, education and development for those children.
Fernandez has been actively involved with the orphanage since 2008, has volunteered more than 1,000 hours in the past 16 months and raised close to $200,000 to benefit the children. This past November, he brought all 33 kids to Walt Disney World for a five-day, all-expenses-paid, dream trip of a lifetime.
In his local community, Fernandez is active in his church, working with several of its ministries and support groups. He volunteers at the Salvation Army Rehabilitation Center in Miami and for "Mejorando tu Salud," a health fair that has benefitted thousands in Homestead, Little Haiti, Immokalee, Pembroke Pines and Miramar, among other areas.
For the past five years, he has organized Red Day, an initiative to give back to the community, at the real estate firm where he works. Through his leadership of that event, he has helped more than 350 children from low-income communities in Miami-Dade County and those living at His House Children Home in Miami Gardens.