MIAMI – (RealEstateRama) — The MIAMI Association of REALTORS® (MIAMI) hosted 40 foreign delegates from 10 countries and hundreds of South Florida Realtors during its 23rd annual International Real Estate Congress in October at the Biltmore Hotel in Coral Gables.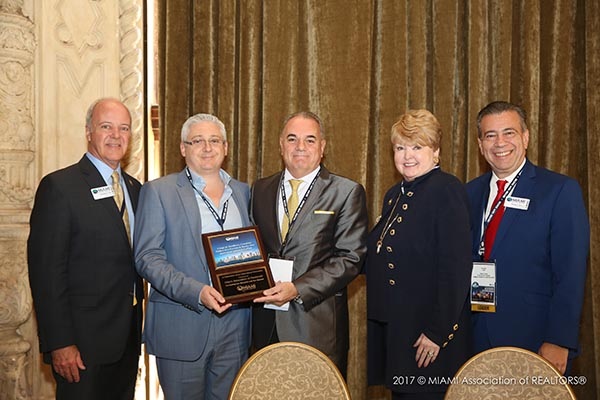 MIAMI signed two international collaboration agreements at the 2017 Miami Congress, increasing its number of global agreements to 167 — the most of any Realtor® association in the United States. The three-day Miami Congress featured eight international market briefings from MIAMI partner associations and insight from 10 distinguished real estate speakers.
"Every year, the Miami Congress brings together real estate professionals from around the globe to discuss the latest real estate trends," said Coral Gables Realtor Christopher Zoller, the 2017 MIAMI chairman of the board. "We were once again honored to have an expanded presence of our international partners, and we had the unique experience to engage with some of Miami's top real estate brokers and experts on myriad panels."
MIAMI Signs Two Global Agreements, Brings Total to 167 International Partners
MIAMI signed international collaboration agreements with Colegio de Martileros y Corredores Públicos del Departamento Judicial de la Plata (Argentina) and FNAIM Aix-Marseille-Provence (France).
The alliances create business opportunities for MIAMI members, enhance Miami's global position and strengthen the local real estate market and economy. The agreements provide resources, visibility and connections for our valued international partners. MIAMI has international partners in more than 50 countries and five continents.
New 2017 MIAMI Profile of International Home Buyers to be released in Early 2018
MIAMI CEO Teresa King Kinney revealed initial findings from the 2017 MIAMI Profile of International Home Buyers during the 2017 Miami Congress. The report is prepared annually for MIAMI by the research division of the National Association of REALTORS® (NAR).
The survey will be released by MIAMI in early 2018.
Miami Congress Panels Analyzed Emerging Markets Purchasing in South Florida
National Association of REALTORS® (NAR) Vice President of Research Paul Bishop — a keynote Miami Congress speaker — outlined Canada, Mexico, Vietnam, China, India and Eastern Europe as the top foreign markets to watch for U.S. real estate purchases in 2018.
Miami is a top destination for foreign buyers because it has a thriving financial center, an advantageous geographic location, access to trade, a growing multicultural population and more. International and domestic buyers also get more money for their investment when they purchase in Miami.
"Miami is way undervalued compared to other global cities," said Ron Shuffield of EWM International Realty. "When you look at Miami's new condo market, you can buy four brand-new condo units in Miami compared to the price of one in Manhattan. In London, it's five to 1. In Monte Carlo, it's 10 to 1."
A diversified group of countries (not just Latin America) are searching and buying Miami real estate. A power-packed South Florida brokers panel of Alicia Cervera of Cervera Real Estate, Philip J. Spiegelman of ISG World and Peggy Fucci of OneWorld Properties, discussed Miami's emergence as a global city.
"Turkey and Russia are strong markets for Miami real estate," said Fucci, whose firm is selling and marketing Downtown Miami's PARAMOUNT Miami Worldcenter, one of the largest mixed-use projects in the United States. "I firmly believe that China is a wave that is coming to Miami, especially if we get that direct (Miami-to-Asia) flight."
10 Foreign Countries Participated in Miami Congress
Real estate professionals from Argentina, Brazil, Canada, Colombia, Ecuador, Dubai (UAE), France, Italy, Serbia and Spain participated in the 2017 Miami Congress.
Conference goers heard global market updates about France, Dubai (UAE), Spain, Argentina, Colombia, Brazil (two presentations) and Italy.
2017 Miami Congress Diamond Sponsors: Artesia, Festival Minto Resorts Orlando, Miami Herald Media Company and MintoUSA.com. Platinum Sponsors: Missoni Baia Miami Residences and Perez-Roura Law. Gold Sponsors: Aria on the Bay Miami, Botaniko Weston, Espejo & Asociados, Modern Doral, Residencial Roble, Residencial Stella and Seawinds Punta Goleta.
For 2017 Miami Congress presentations, visit: http://www.miamirealtors.com/international/congress/resources
For 2017 Miami Congress photo gallery, visit: https://www.flickr.com/photos/rambmiami/sets/72157690034866426
The 2018 MIAMI Congress will be held Oct. 28-30. For the latest information, visit: http://www.MiamiCongress.com