MIAMI, FL – (RealEstateRama) — The Building Owners and Managers Association (BOMA) of Miami-Dade is hosting the 2017 Commercial Real Estate Outlook Thursday, September 29, 2016 at noon. The forum which will focus on Florida's future DNA of commercial real estate will be held at East Miami, 788 Brickell Plaza, Miami, FL 33131.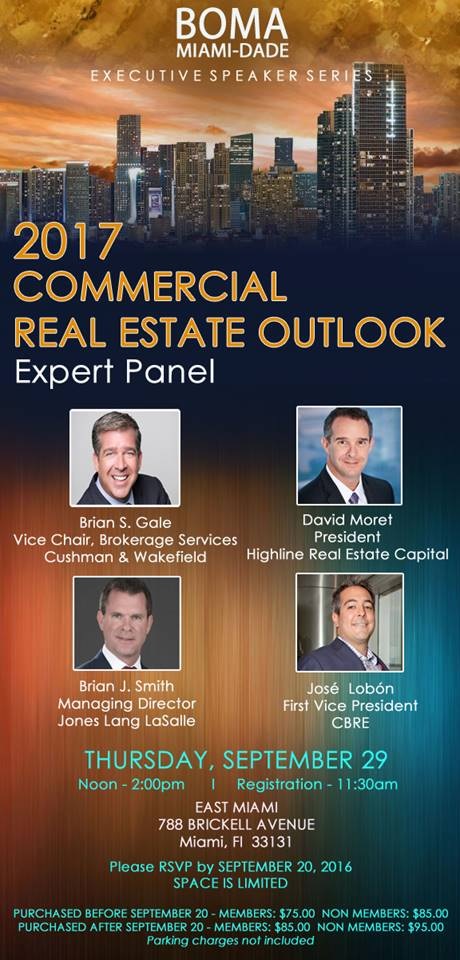 The event will showcase leading commercial real estate experts presenting on future industry trends in the areas of: office, retail, industrial, landlord, tenant representation and acquisitions.
This is an opportunity to hear predictions and expectations on the commercial real estate industry by top local, expert panelists who are the pulse of the market. Panelists will share both their expectations and marketing realities. Featured panelists include
Cushman & Wakefield Vice Chair of Brokerage Services – Brian Gale
Through his 24 year career, Gale has overseen the signing of leases totaling over seven million square feet, with a value near $2 billion, including three of the ten largest office leases ever in the Brickell/Downtown market. He currently represents almost five million square feet of office space in South Florida.
JLL Managing Director – Brian Smith
Smith concentrates on the sales and leasing of industrial property and commercial land transactions. Recently Smith led the team representing NBC Universal/Telemundo Enterprises in the record breaking lease of over 550,000 SF for a world headquarters broadcast center in western Miami Dade. The lease is the most valuable lease ever completed in Florida.
CBRE First Vice President – Jose Lobón
Lobón as partner of CBRE's Miami-based South Florida Capital Markets Institutional Group has been involved in the valuation, marketing and execution of more than $9 billion in real estate sale and finance transactions, ranging from one-off dispositions to multi-market portfolios.
Highline Real Estate Capital President – David Moret
Moret formed the Miami-based real estate investment company earlier this year following a two decade career at CREC at which he was responsible for structuring more than $500 million in real estate acquisitions. Highline focuses on acquiring office and retail properties in conjunction with capital partners adding value through re-tenanting, redevelopment and expansion.
To register for the event sponsored by Comcast Business click here.
Attachment: Event Invitation
Media Inquiries
Maria Gomez
Executive Director BOMA Miami-Dade
mgomez (at) boma-miami (dot) org
TEL: 305-200-8721